Singapore may be a small city-state, but what it lacks in size, it makes up for its wide variety of mouth-watering cuisines. If you love food, then Singapore food is the best for you. its  known for its wide ethnic and cultural diversities, Singapore's cuisines are as diverse as its people. Most of the food features a blend of Indian, Malay and Chinese influences. Whether you prefer to eat at one of the hawker centers or at the country's upscale restaurants, here are some of the best Singapore Food dishes to try during your visit to Singapore.
1- Mud Crabs
I love this dish, whether it is chili or pepper crabs, your visit to the island would not be complete without tasting its mouth-watering mud crabs. The chili crabs are cooked in gravy with tomato chili as its base. On the other hand, the black pepper crabs are served with lush jack-fruit sauce that will leave you craving for more. For both recipes, the crabs are partially cracked and lightly stir-fried in a sumptuous sauce. You should order breads along with the crabs and dip in its sauce. You'll find these crabs being sold all over Singapore, even on hawker centers.
2- Laksa
Laksa is a popular dish to try during your visit to Singapore. It's a rice noodle soup cooked in a spicy coconut curry. The soup is available in many variants. It can also come with shrimps, egg, fish cakes or chicken meat. This dish is a mixture of Malay and Chinese cuisine. It's very popular in the country and you can find it being sold in various places. If you're on a budget, visit one of the hawker centers for a satisfying bowl of laksa.
3- Hainanese Chicken Rice
Named after the Chinese island of Hainan, the Hainanese chicken is among those Singapore dishes that have strong Chinese influences. The Hainanese chicken rice has become some sort of unofficial national dish in Singapore. It consists of sliced steamed chicken served with rice dipped in chicken stock. Pour a hot chili sauce over it and you can give it a go. This dish makes for a satisfying and fulfilling lunch.
4- Char Kway Teow
The Char Kway Teow is another noodle dish that you should give a try during your Singapore trip. It's made of broad white noodles that are fried in soy sauce. The noodles are then mixed with bean sprouts, clams, Chinese sausage and fish cakes. Visit any of the hawker centers in Singapore to give this dish a try. For a healthier variety, look for restaurants that cook their Char Kway Teow in lard instead of oil.
5- Fish Head Curry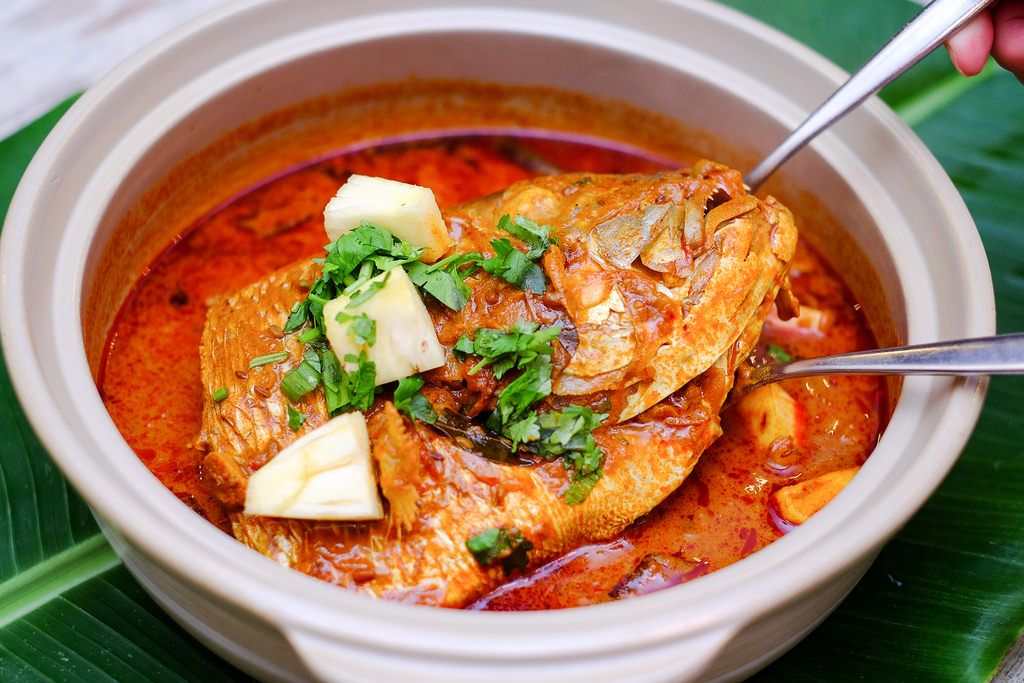 Another seafood dish that's worth trying in Singapore is the Fish Head Curry. This consists of a huge fish head cooked in curry and added with various vegetables. For a more satisfying meal, eat this dish with rice or bread. Finish your meal with a glass of local lime juice. This dish is also served in other varieties. If you're someone who loves a sweet and sour taste, order the version with tamarind juice.
6- Satay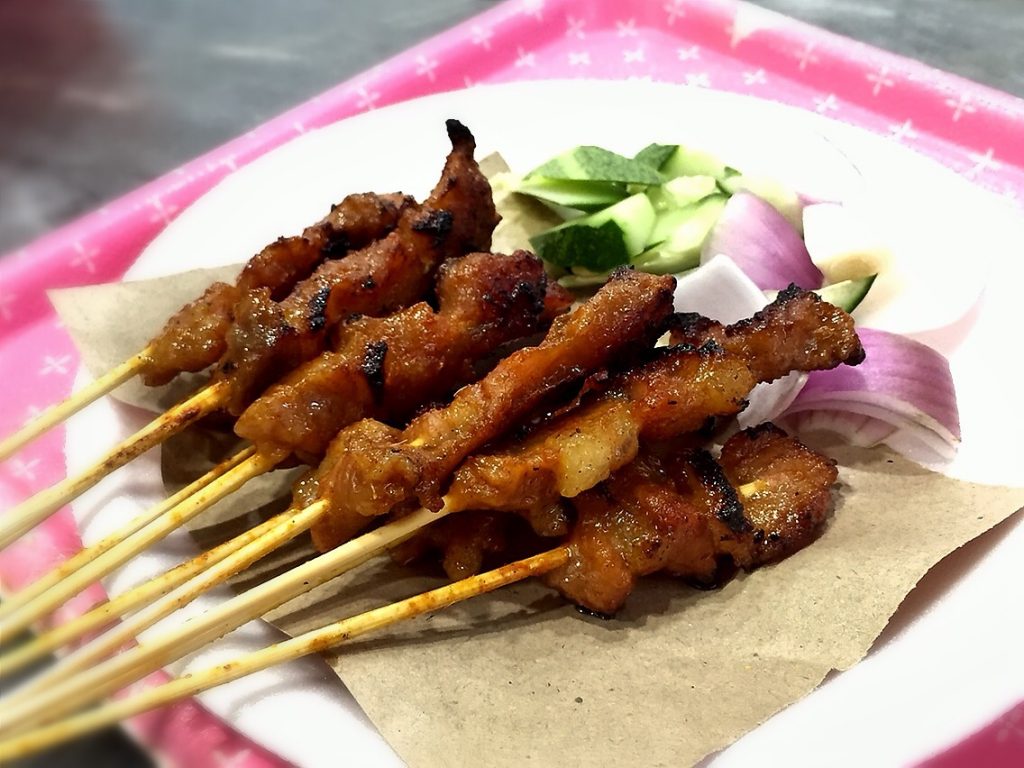 If you love barbecues, then you should give Singapore's satay a try. These are skewered grilled meats served with luscious peanut sauce. The meats are marinated with a strong turmeric scent for a more satisfying flavor. Eat this dish with a rice cake, known locally as ketupat. you can choose from chicken, beef, pork or mutton. This is a great starter dish that you can order from various local restaurants in Singapore.
7- Sambal Stingray
Sambal stingray is a barbecued stingray that you can find in various hawker stalls in the country. Years ago, stingray is said to be looked upon as a poor tasting fish. Someone from the Malay community had decided to smear the fish with spicy sambal sauce, which is a mixture of chilli peppers and shrimp paste. The result is a delicious and flavorful seafood dish. Grilled in banana leaf to retain its flavor, this seafood dish is truly very appetizing. Visit the Tamam Jurong Market for some of the best tasting sambal stingray.
8- Oyster Omelette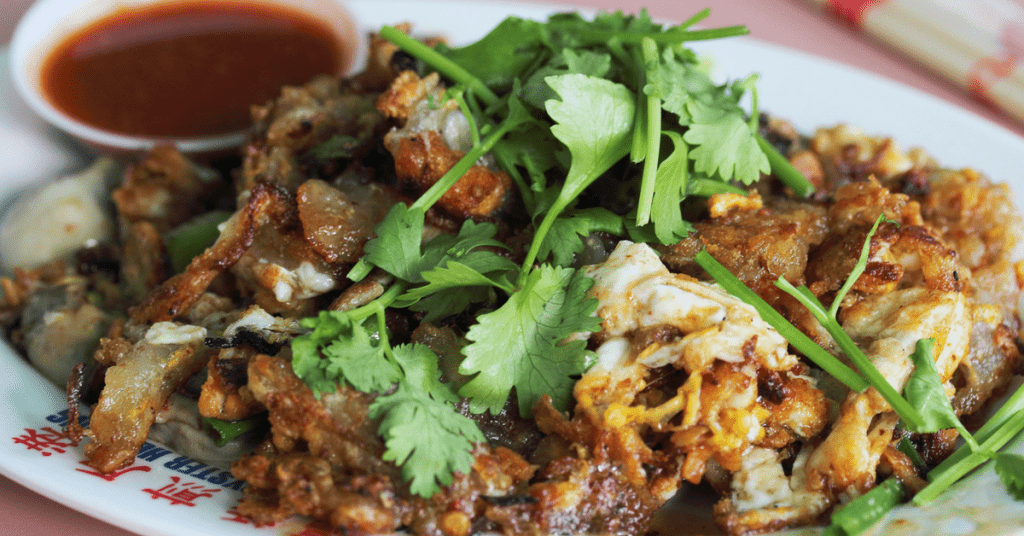 Oyster omelette is an egg omelette with a generous serving of small oysters. Mixed with flour and fried to perfection, this is one of the most delectable Singapore dishes that you should give a try. Choose the starch-less versions if you want a thinner taste. This dish is originally from Taiwan and the Singapore version is often served with chili vinegar.
These Singapore Food Dishes will make you enter a new world of flavor and delicious experience and will make your Singapore visit unforgettable.